Light Trim FiberCement Siding Trim
Quick, easy, and simple to install, LightTrim trims and screws are specifically designed for a fast and easy installation. Light Trim's Fiber cement siding and screws come in various beautiful colours. Find the perfect match for your Fiber cement siding; James Hardie 700+ Dream Collection Colors or any other custom colour you need.
Light Trim is a straightforward solution to your fibre cement siding designed and manufactured in Canada. Light Trim is a 100% Canadian-based company specializing in designing and manufacturing trims, screws, nails, tools and paints for fibre cement siding.
Technical specifications for all 5/16" panel trims and 3/4" lap trims
Length: 3.048 m (120")



Thickness: 1.4 mm 6360-T5 aluminum extrusion designed for rigidity
3 popular colours readily available in Black (midnight black), White (arctic white) and Bright Silver for quick shipment
Fastest delivery service for James Hardie Statement colours
Endless possibilities of personalized colours
Highest standards and professional quality PPG paint in accordance with AAMA 2604
Perfect gloss match for James Hardie products
Paintable trims
Unique installation template tool (T001)
Quick, easy and simple to install
Certified LEED® Canada V4
20-year limited warranty
Made in Canada
Transition Trims & Flashing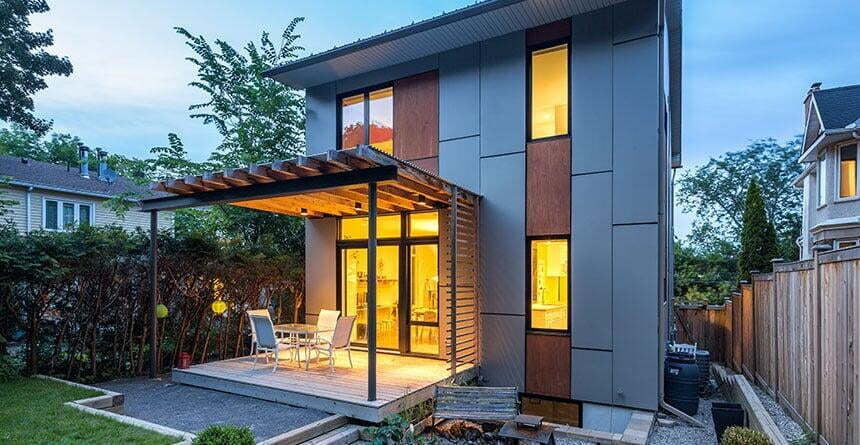 Light Trim 5/16" Panel Trims
Light Trim Shadow and Bold Collection trims, as well as complementary trims are synonymous with elegance and durability. Exclusively designed for fiber cement siding.

LIGHTTRIM SHADOW Collection
A collection where the finest lines are put forth and the panel contours are ever so slightly visible.
LightTrim 5/16" Panel Trims - Shadow Collection
LIGHTTRIM BOLD Collection
A collection where the emphasis is on the trim, the contour lines of the panels are highlighted.
LightTrim 5/16" Panel Trims BOLD collection
Transition Trims & Flashing
Fasteners and tools

Light Trim offers all types of fasteners and accessories for a simple, easy and fast installation of fiber cement siding.

LightTrim Fasteners & Tools
Exterior coating paint for accessories and siding