Fortress Al13 Home Glass Railing
Fortress has transformed the glass railing industry. No longer are these systems complex to order and install. Fortress has created a simplified system with an easy drop-in solution.
Choose this clear-view design for a sleek, modern aesthetic coupled with low-maintenance living.
Get started with the simple steps below to purchase your customized Fortress railing systems.

We strongly recommend following the Fortress Railing installation guides for best results.

Step 1: Select Railing Panel
Fortress glass rail top and bottom rails are available in 6' sections.

The height of the deck railing will be determined by the size of the glass chosen.
- Choose 31.5" glass panels for 36" rails.
- Choose 39" glass panels for 42" rail height.
- Custom glass panels can be ordered from a glass manufacturer to achieve alternate heights.
DeckMart offers glass panel widths in 5" increments from 31.25" to 61.25".
Check your local building codes to ensure height compliance.
The following requirements apply in Ontario:
If the deck/porch height is above-grade 5' or more, your handrail should be 42" high (from the deck surface).
If the deck/porch height is less than 5' above-grade, your handrail should be 36" high (from the deck surface).
If the deck/porch height is less than 2' above-grade, a railing is not required.
Note: Glass rail top and bottom rails must be installed with an Accent Top Rail (ATR) or a drink rail attached with Fortress cap rail clips. (See Step 3)

Fortress AL13 Home Glass Railing
How to order glass panels
 Glass Widths

 Between Post Spacing

 12.25"

 15" to 20" [381mm x 508mm]

 18.25"

 21" to 26" [533mm x 660mm]

 24.25"

 27" to 32" [686mm x 813mm]

 31.25"

 34" to 39" [868mm x 991mm]
 

36.25"

 39" to 44" [991mm x 1118mm]

 41.25"

 44" to 49" [1118mm x 1245mm]

 46.25"

 49" to 54" [1245mm x 1372mm]

 51.25"

 54" to 59" [1372mm x 1499mm]
 

56.25"

 59" to 64" [1499mm x 1626mm]

 61.25"

 64" to 69" [1626mm x 1753mm]
Fortress Posts kits are available in 2"x2" and 3"x3" options.

Posts are available in various heights to accommodate 36", 42" and 48" railing systems.




Post kits include post base covers (post skirts). Post caps are sold separately.




Posts can be installed with Proud Post application and Over-The-Post application.

For Over-The-Post applications use 2"x2" posts.
Choose Blank or Pre-Attached
Fortress aluminum railing posts are available as blank posts and posts with pre-attached brackets.
Pre-attached brackets allow for easy installation, simplified ordering, and consistent quality.
Choose an Accent Top Rail or drink rail to complete your deck railings.
For Accent Top Rails (ATR), use over-the-post (OTP) splices.



For drink rails, attach with Fortress cap rail clips.
Find everything you need for this step in the product selection below.
Fortress AL13 Home ATR & splices
Step 4: Final Touches - Fortress Accents
Put the finishing touches on your deck railings with brilliant Fortress accents. Attractive post caps and post base covers complete the look. Waterproof LED light kits enhance any style. And a unique built-in thermal management system features a power supply option with timer and dimmer to make lighting efficient and convenient. Find everything you need to complete your railing system, right here.
Strong and durable die-cast aluminum post caps with optional LED lighting system
Energy efficient LED lighting
Versatile – use with a variety of deck railing and railing systems
Use with wood, composite, vinyl, or Fortress™ railing metal posts
Most Fortress Accents™ components are ETL Listed
Virtually maintenance-free, backed by a 10-year manufacturer's warranty
Fortress Al13 Home Gate Kit
Add accessibility and security to your Fortress deck railings with beautiful aluminum gate kits.

100% rust-roof
Strong, durable aluminum construction (superior to wood or vinyl)
Color will not fade
Highly resistant to dents, bending, and shock damage
Gate uprights are available in heights of 32.5", 40" and 44.5".



Uprights accommodate custom-sized gates up to 48" wide.
Use double-gates for wider openings
Rail panel and gate hardware sold separately.
Fortress AL13 Home Gate Kit
Fortress AL13 Home Glass Railing spare parts
Key features
Simplified installation: Innovative construction provides easy drop-in solution for simple and quick installation.
Clear-view aesthetic:

Fortress glass rail offers high visibility and a clean look, without compromising quality.
Flexibility:

Choose from multiple top railing and post options for ultimate design flexibility.
Choose your preferred aesthetic:
Available in 2 premium textured finishes – each engineered to withstand the elements.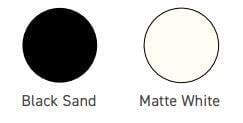 Order Railing in 5 Simple Steps
Fortress glass railing systems are available in 2 colours:
Matte White & Black Sand
2. Determine the number of sections you'll need
Fortress glass rail is available in 6' sections.
3. Choose the height of your railing
Check local building codes to ensure compliance.
4. Order your Fortress railing parts
Select the glass rail and kits you desire to create your custom deck railing.
See the tabs above for more details on specific deck supplies.
5. Add the finishing touches
Enhance your Fortress railing with lighting, accessories, and a Fortress gate—for the ultimate outdoor oasis.