Maibec Installation Hardware & Accessories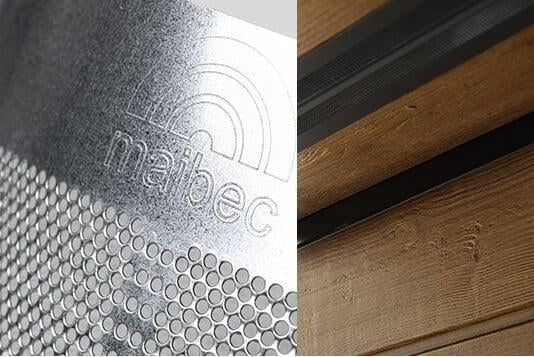 -
The siding's installation must allow for continuous
ventilation and adequate drainage above and below
all openings. Maibec offers a full range of ventilated
mouldings to ensure this.
Maibec ventilated strips will allow proper water and heat management while preventing potential rodents and certain insects from getting in behind the siding.
-
Apply touch-up stain to all cut or planed surfaces
and to all bare wood, even if it will not be visible
after the siding is installed. Always touch up
boards BEFORE installing them.
Apply touch-up stain on nail heads when necessary.
-
Maibec em+ siding is quickly and easily installed with staples and a pneumatic stapler equipped with the Maibec em+ stapler guide. Use nails on any adged boards where
the tongue and groove system has been removed.
-
Use Maibec nail fastening system for Maibec Regular Siding, Maibec vertical siding installation and Boards and Batten.
Maibec Installation Hardware & Fasteners