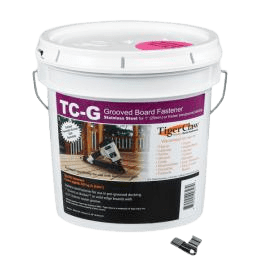 FastenMaster TC-G Clips 500 sq.f. bucket
Non-returnable
The TC-G clips work in pre-grooved decking planks or non-grooved decking planks using a FastenMaster TC-150 slot cutter. Covers 500 sq.f. of decking.
Screws Sold Separately - see recommended products.
The clip's sharp prongs embed into the upper portion of the groove for strong holding power. The stainless-steel screw ensures a lasting connection between decking board and joist.
Features:
Available in a hand driven or pneumatic gun installation method
Spacer tabs on the clip automatically gap the decking 3/16" for a consistent look
Made of 304 stainless steel
Approved for use in saltwater applications and ACQ or chemically treated lumber
The TC-G reduces wood splitting, wood rot and board cupping. Comes with a 25-year warranty.
For a completely fastener-free surface, use with our Cortex System for stairs, first, last and perimeter boards
Shipping & Availability
5 Business days lead time to get the product ready for shipping or pick-up
_productIds
980609000034361337
Product Name
TC-G Clips (screws sold separately)
Description
FastenMaster | 900 Clips | 500 sq.ft. | use with FM5906GNSC-930 collated screws
Collection_ID
980609000051014013_24000,980609000051014019_104000,980609000051014017_64000,980609000051014011_102000
Available for use in the following decking types:
All Trex Profiles
All EverGrain Profiles
ChoiceDek (Lowes)
Fiberon Horizons
Fiberon Pro-Tect
Fiberon Paramount
Fiberon Symmetry
Wolf PVC
Wolf Island
Moisture Shield
Tuf-Deck
Veranda Decking
Brazilian redwood
Ipé
Iron Wood
Mangaris
Purple Heart
Teak
Cambara, Meranti
Cali Bamboo BamDeck®
Sylvanix
And most other pre-grooved or groove-able 5/4" or thicker decking.