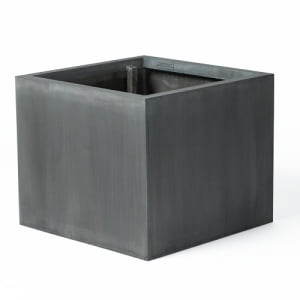 Bison Oxidized Zinc Patina Aluminum Cube
Non-returnable
Bison Oxidized Zinc Patina Aluminum Cubes
are made in the U.S.A., can contribute to LEED points, and integrate seamlessly with Bison Deck Systems. Made of lightweight, commercial-grade aluminum, Bison Cubes are exceptionally durable, typically contain 20% recycled content, and are 100% recyclable. See Product Information below for dimension and weight options.
Note: Actual colors may differ from photo.
Oxidized Zinc Patina products will lighten in color and change throughout the life of the product. Rate of change is dependent upon environmental factors.
Available with standard irrigation sleeves and drainage holes, Bison Cubes can host plant life in the summer and be repurposed for seating and storage in the winter thanks to the optional hardwood Bison Cube Tops.
Actual colors may differ from pictures.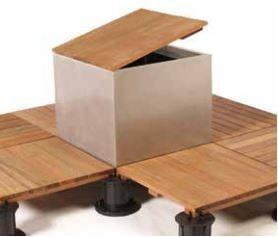 | | |
| --- | --- |
| Item Number | Dimensions L x W x H / Weight |
| CUBE-PC242420 | 23.875 x 23.875 x 20" (606 x 606 x 508 mm) / 28 lbs (12.7 kg) |
| CUBE-PC242424 | 23.875 x 23.875 x 24" (606 x 606 x 610 mm) / 30 lbs (13.6 kg) |
| CUBE-PC242436 | 23.875 x 23.875 x 36" (606 x 606 x 914 mm) / 42 lbs (19.1 kg) |
| CUBE-PC482420 | 47.9375 x 23.875 x 20" (1218 x 606 x 508 mm) / 45 lbs (20.5 kg) |
| CUBE-PC482424 | 47.9375 x 23.875 x 24" (1218 x 606 x 610 mm) / 50 lbs (22.7 kg) |
| CUBE-PC482436 | 47.9375 x 23.875 x 36" (1218 x 606 x 914 mm) / 66 lbs (29.9 kg) |
| CUBE-PC484820 | 47.9375 x 47.9375 x 20" (1218 x 1218 x 508 mm) / 131 lbs (59.5 kg) |
| CUBE-PC484824 | 47.9375 x 47.9375 x 24" (1218 x 1218 x 610 mm) / 150 lbs (68.0 kg) |
| CUBE-PC484836 | 47.9375 x 47.9375 x 36" (1218 x 1218 x 914 mm) / 191 lbs (86.8 kg) |
| CUBE-PC722420 | 72 x 23.875 x 20" (1829 x 606 x 508 mm) / 85 lbs. (38.6 kg) |
| CUBE-PC722424 | 72 x 23.875 x 24" (1829 x 606 x 610 mm) / 95 lbs (43.1 kg) |
| CUBE-PC722436 | 72 x 23.875 x 36" (1829 x 606 x 914 mm) / 125 lbs (56.7 kg) |
| CUBE-PC962420 | 96.0625 x 23.875 x 20" (2440 x 606 x 508 mm) / 165 lbs (74.8 kg) |
| CUBE-PC962424 | 96.0625 x 23.875 x 24" (2440 x 606 x 610 mm) / 185 lbs (83.9 kg) |
| CUBE-PC962436 | 96.0625 x 23.875 x 36" (2240 x 606 x 914 mm) / 240 lbs (108.9 kg) |