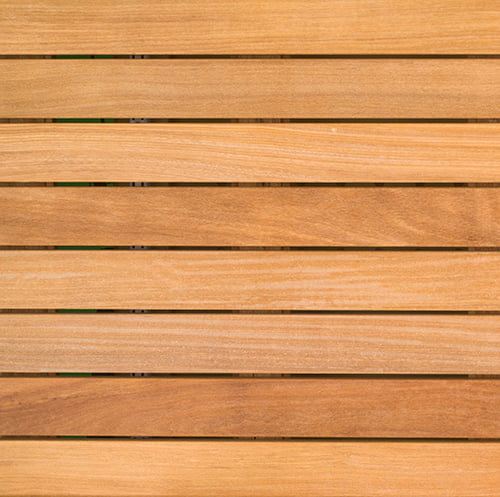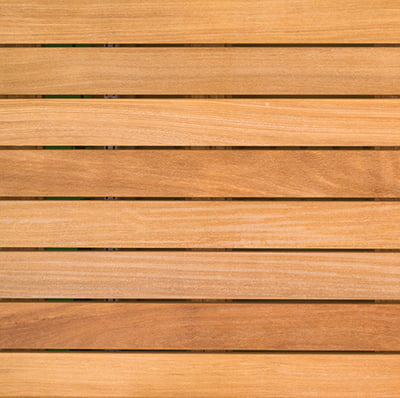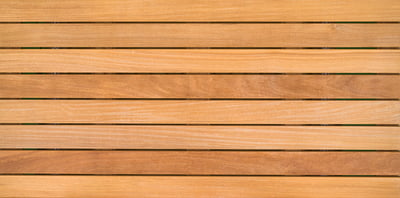 Bison CUMARU Wood Tiles
Non-returnable
Bison CUMARU Wood Tiles are awailable in
2′ x 2′ and 4'x2' in smooth 8 planks. Cumaru wood tiles are commercial grade, constructed from responsibly harvested hardwoods, and available with standard or FSC certified species (see
FSC products
). Bison wood tiles weather over time, developing a silvery-gray patina. If maintaining the wood color is desired, wood tiles can be periodically cleaned and sealed.
Note: Wood is a natural product and actual tile colors may differ from photo.
Product Details
Specifications
Care & Maintenance Considerations
Bison Wood Tiles are an ideal long-lasting, low-maintenance decking solution providing warmth, excellent weather resistance, and architectural charm to decks.
Bison Wood Tiles are made of South American (Cumaru, Ipê, Garapa, and Massaranduba), Fijian (Mahogany), and Chinese (Fused Bamboo) hardwoods which contain a rich variety of graining and coloration, are exceptionally dense, and resistant to insects. Bison Wood Tiles are a natural material that can absorb or lose moisture in different climates. The natural shading, coloration, and graining variations add to the architectural character and overall visual appeal of the finished product.
Being a natural product, Bison Wood Tiles will react to the surrounding environmental conditions. Surfaces may spot or stain when exposed to various materials including: metal, steel, iron, or aluminum filings, pieces, equipment, tools, or fasteners; iron enriched fertilizers; plant debris; animal urine; beverage, food, or grease spills; or mildew that naturally occurs in humid or moist locations. To avoid spotting or staining during construction, Bison recommends covering the deck to reduce exposure to metal that could rust and react with the deck surface.
Cleaning, Sealing, & Staining
Bison Wood Tiles are made of hardwoods that will weather over time, developing a silvery-gray patina.
In order to maintain the original coloring, Bison Wood Tiles can be periodically cleaned and sealed. Use deck products designed for hardwoods. Spot cleaning can be done, but for a consistent appearance, Bison recommends cleaning the entire deck. Most decks need to be cleaned after installation is complete.
Test any cleaners, brighteners, or sealants in an inconspicuous area first before applying them to the installed deck. In addition, always check with the manufacturer of your roof membrane to ensure that any cleaning solution, stain, oil, deck brightener, or bleach will not compromise or damage the waterproofing membrane. Remember to use safety glasses, respirators, and gloves in handling any materials that contain chemicals. Refer to product manufacturer's SDS for more information on chemical components and safe handling practices. CAUTION: Do not scrub tiles with wire, iron, or steel brushes.
The following manufacturers offer products specifically designed for use with dense hardwoods: Messmer's, Penofin, Defy, and TimberPro. Follow the manufacturers' instructions and repeat as needed to clean stubborn stains. Rinse the deck, adjacent walls, and surrounding areas thoroughly with water prior to and after using wood cleaners or brighteners. Once cleaned and dry, you may apply a UV finish or sealant to the wood if desired.
Wood Tiles
Species

Cumaru

Surface

Smooth

Color

Golden Brown

Dimensions

23.875"x23.875"x1.69" (606x606x43mm)-for 2'x2' | 47.9375"x23.875"x1.69" (1218x606x43mm)-for 4'x2'

Planks

8 Plank

Weight

24 lbs (10.9 kg)-for 2'x2' | 48 lbs (21.8 kg)-for 4'x2'

Weight PSF

6 psf (29.3 kg/m2)

Janka Hardness

3540 lbs (1605.7 kg)

Fire Rating

Class A (Meets and exceeds ASTM E108-07a Class A Spread of Flame Test)