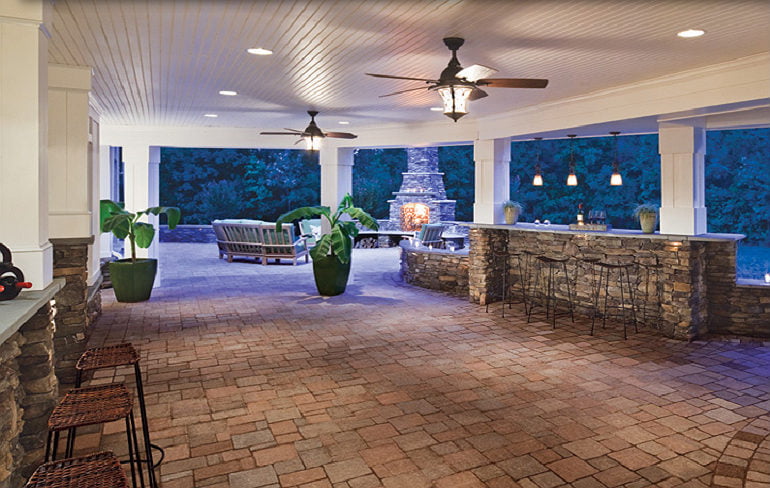 Are you investing in a composite deck for your home? Why not maximize your investment by adding a waterproof living space under the deck with the use of Trex RainEscape®?
The Trex RainEscape® drainage system maximizes the function, form and entertainment potential of the patio beneath your upper-level composite deck. This innovative feature keeps the area dry, to double your outdoor enjoyment space.

Trex RainEscape® funnels water into troughs, through downspouts, and out to rain gutters, effectively protecting the patio from precipitation. The system is available for new deck projects and is easily installed after the joists are in place, before the installation of deck boards.
The unique design of this drainage system eliminates any concern for trapped moisture in your decking. Other systems mount below the composite deck framing, creating a cavity between the joists and the underside of the decking boards. This space holds moisture that can prematurely rot your deck structure.
Trex RainEscape® offers a smart design that mounts above your framing. It goes on before the composite or PVC boards are installed, offering additional protection rather than potential harm. The system offers long-lasting framework for your upper-level composite deck. It works well with both 12" or 16" center joists.

With this exceptional drainage system in place, you can use the dry space beneath your deck for a wide range of outdoor living:
Outdoor kitchen or living room

Bar and entertainment space

Barbeque or fireplace

Kids' play area

Carport
Maximize your outdoor living space with the deck drainage system.

Trex RainEscape® Parts
Trex RainEscape® offers a simple, efficient system. It's streamlined and effective, for easy installation and incredible benefits. The assembly consists of downspouts, troughs (available in 12' or 16' length), tape (4" x 50'), elevations tape (2-1/2" x 50') and caulking Builder's Tip: Is your deck more than 16' long? No problem. Simply place troughs side by side, with some overlapping, to cover the full length of your space.


Where Can I Buy Trex RainEscape®?
DeckMart keeps plenty of Trex RainEscape® in stock. If your customer makes a last-minute decision to add RainEscape to their deck - no problem. If you're in the middle of a project and run out of parts - no problem. Simply give us a call and come pick up what you need. We can arrange for rush delivery if needed. We do our best to keep your project smooth and on schedule.

Call us (905) 856-1177, or visit us at 100 Marycroft Ave, Unit 3, Vaughan, ON, Canada, L4L5Y4, sales@deckmart.ca