Deck Maintenance for Composite decking & PVC decking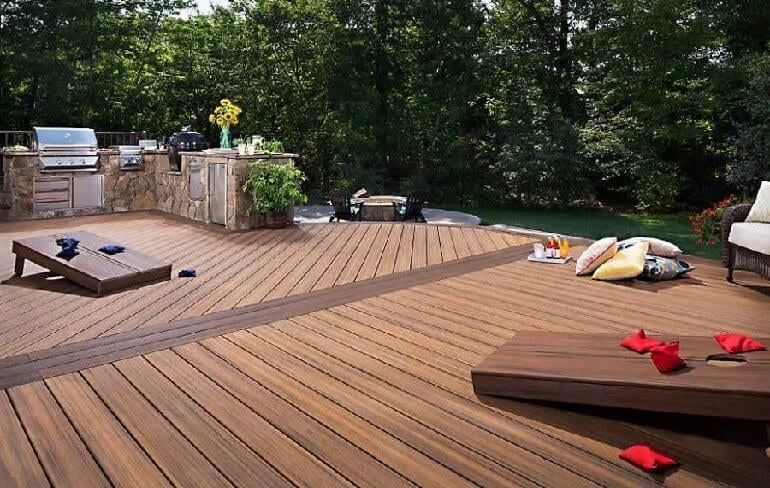 There's good news for composite deck owners. Composite decking doesn't require any maintenance. It simply needs to be cleaned. All you'll need are water and soap.
Spray the deck with soap.
Gently scrub each deck board with a soft bristle brush, then rinse.
Enjoy your real-wood look without the maintenance of softwood.
This process typically takes 1-1.5 hours for a 700 sq. foot composite deck. That means you're quickly back to enjoying the outdoor life with your family.

With this simple cleaning, your composite deck will maintain its original beauty for years to come. Choose from a variety of shades for your deck (match to your home or your outdoor furniture!) and enjoy the rich color without worrying that your deck will fade. Plus, all premium brands offer a 25 to 30-year fade and stain manufacturer warranty. It's that easy!

Bonus builder's tip:If you decide to use a power washer to clean your deck, be sure to follow the
recommended maximum pressure in psi value. This is strongly recommended, to avoid damaging your decking.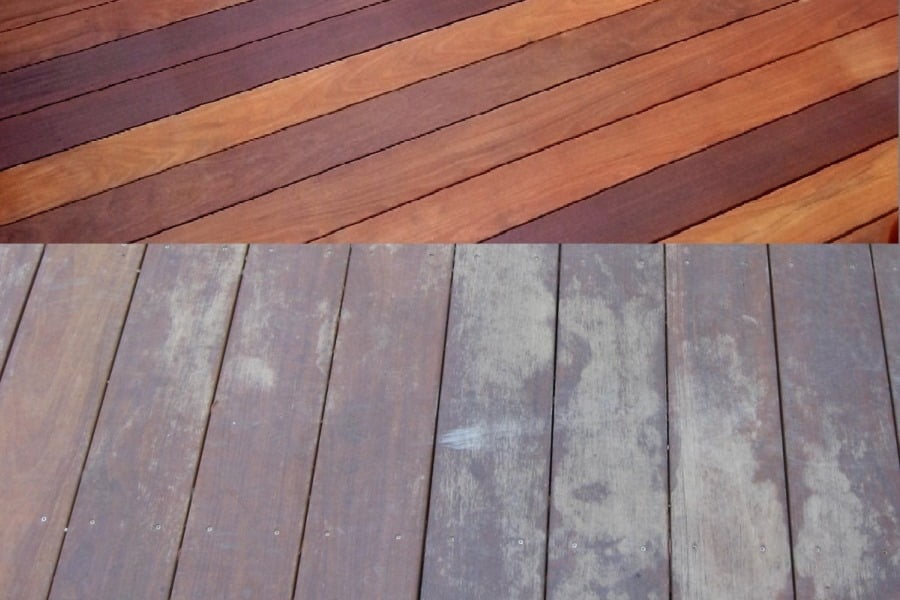 Ipe deck maintenance:
​
Maintain the Natural Beauty of Hardwood
More and more homeowners are choosing exotic wood, or hardwood, for their deck designs. It's easy to see why. Hardwoods such as Ipe (EE-pay) are extremely durable. This material is three times harder than cedar and is very resilient. Ipe is resistant to cracking, splintering and warping. This dense wood offers a solid foundation to create a deck that will stand the test of time.

I pe decking requires less maintenance than pressure treated woods, but it does need yearly treatment. The quality of the material makes it durable, but annual deck maintenance is required to sustain the natural beauty of the wood.
Because ipe is so dense, it does not accept stains well. A coat of oil is best, to give it a rich, dark color, similar to mahogany. After about a year, the deck will typically start to look dirty. The color will become darker, and the fine grains won't be as visible. To maintain the original look, reapply oil once each year:
Scrub the deck with TSP bleach and water
Hose off the deck
Dry
Apply the new coat of oil
Doing this once per year will keep the deck looking brand new.
If you strongly prefer staining your deck, oil-based penetrating stains designed for hardwood decking can be used. If stained, your deck should receive a coat of UV-blocking clear wood preservative every three to four years.
Ipe decks that are not coated with oil or stain will fade out to grey, similar to cedar decks. The speed at which this occurs depends on exposure to sun, rain and snow. While the material will remain just as durable, the natural beauty of the wood will diminish.
A yearly scrub and oil rub is the recommended simple solution to maintain the deep color and natural beauty of your ipe deck.
Do you have additional questions about the maintenance of your hardwood deck? Contact the team at DeckMart for expert answers.
Bonus builder's tip:

When your hardwood deck is constructed, apply end grain sealer to all cut ends for additional durability.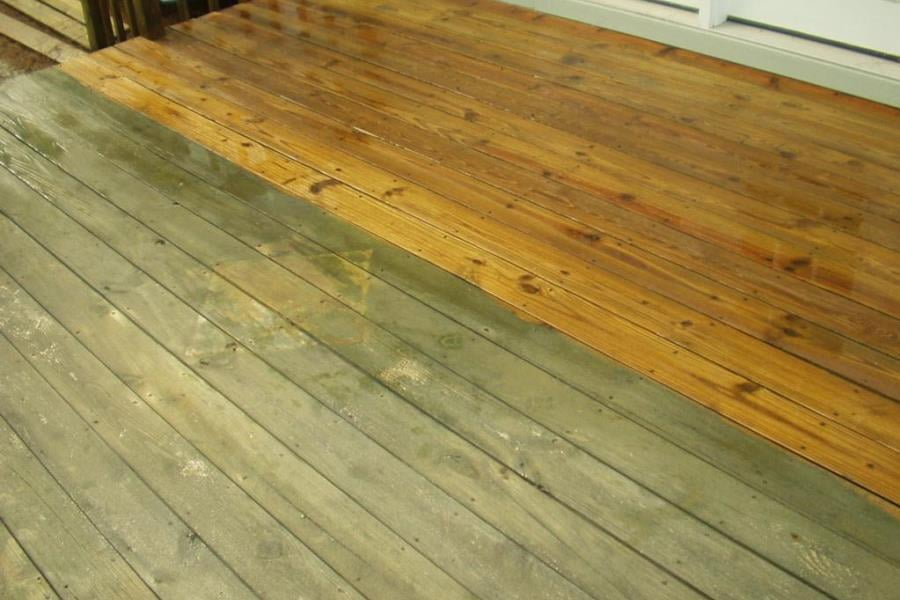 Deck maintenance:
​
Pressure treated & other softwood decks
Softwood decking requires vigilant care to maintain safe conditions and an attractive appearance. Outdoor conditions quickly leave softwood decks looking worse for the wear. Drying, cracking, discoloration, chipping and warped boards are common issues. Often, grime builds up, creating a surface that is not only unsightly, but also unsafe.
For softwood deck maintenance, complete the following restoration process every 2-3 years (more often in extreme climates.) To schedule your softwood deck cleaning and treating, you will need 3 rain-free days in a row and temperatures between 50 and 90 degrees.

1. Boards expand and contract repeatedly due to weather conditions This can push nails out of the deck. Begin by fixing any protruding nails and repairing warped boards.
2. Clean the deck with a power washer. Use the washer carefully and properly to avoid damaging the wood.
3. Apply a deck cleaner and brightener to remove remaining residue and lighten any dark spots. Wear rubber gloves and eye protection during application. Spray the cleaner/brightener on the deck. Scrub the deck with a synthetic bristle brush. Leave the cleaner on for 15 minutes, then rinse. Some of the old stain may still cling to the surface. If this is the case, use an orbital sander to remove it. Also sand handrails to ensure they are smooth after power washing.
4. Apply a water sealant/waterproofing stain. Four finishes are available for deck stains, varying by how much grain and natural wood character you want to show. Choose the style you want, then begin the application process.
First, find a brush narrow enough to fit between the boards, and use this to apply stain to the sides of the boards. Then, use a deck staining pad to stain the surface. Distribute evenly across the boards. Sealers typically dry to the touch in a few hours. Some sealers can be applied to damp wood. For others, cleaning and coating must be done on separate days to allow for drying.
Bonus builder's tip: Every six months, sprinkle a few drops of water on the wood. If it does not bead up, it is time to repeat this process.