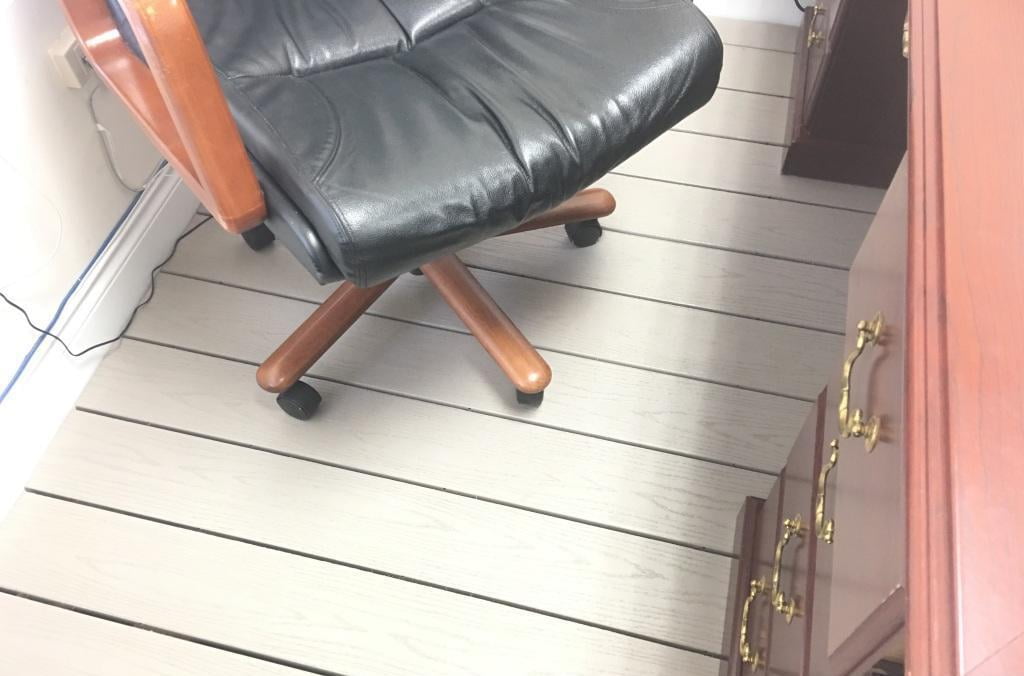 At DeckMart, we offer the highest quality products in the industry. This selection includes AZEK Harvest Collection slate grey – one of DeckMart's most popular selling products.
We know you want decking that will stand the test of time, so that's what we provide. We are committed to working solely with industry-leading brands and top-level decking. gggg
With these standards in mind, we are proud to offer the AZEK Harvest Collection. We know from first-hand experience the durability and reliability of this composite decking. Our showroom features the AZEK harvest collection in slate gray. Check out the photo above.
What you see here is a sampling from our showroom floor. The swivel chair has been used on a daily basis in our office at least nine hours a day. Such intensive use typically causes extensive wear and tear, whether on hardwood, vinyl or other materials. As you can see, this is not the case with the AZEK Harvest Collection. Not a single scratch can be found under the chair. This is the level of durability you seek, and the level we are happy to offer.

This low-maintenance decking is made with high-performance materials - crafted to last. The boards are capped polymer decking protected with Armour Technology. Knowing your deck will need to withstand more than office chairs, AZEK engineers have also made this collection resistant to harsh weather, mildew, mold and moisture damage. Plus, the product comes with 30-year limited fade and stain and lifetime limited warranties.
The AZEK Harvest Collection Slate Gray you see here is maintenance-free. It doesn't require annual sealing or staining. After a quick and simple install, it is ready to enjoy without further maintenance. It also offers superior heat dissipation. That means you can safely enjoy a barefoot stroll across your deck on hot, sunny days. Less work and more relaxation. What's not to love?

The AZEK Slate Gray pictured above is just one of many fashionable colors available. The Harvest Collection offers a full range of soft shades that perfectly complement the most popular colors used in home exteriors today. The collection includes Kona, Brownstone, Slate Gray, Island Oak and Autumn Chestnut. These beautiful colors are guaranteed to enhance your home's exterior. An AZEK deck will bring greater outdoor enjoyment and boost your home's curb appeal.

As your local experts in Toronto Composite Decking, DeckMart professionals are available to assist you with your AZEK Decking selection and purchase. We invite you to stop in our showroom to see first-hand the quality and durability of this brand. Our experts are happy to answer any questions you have about low-maintenance decking products. We offer a full-line of composite decking selections. Our goal is to partner with you to design the perfect deck for your lifestyle. Contact us today at 905-856-1177 or sales@deckmart.ca, or fill out our quick-query form online.
We look forward to creating the gorgeous maintenance-free deck you've always wanted.