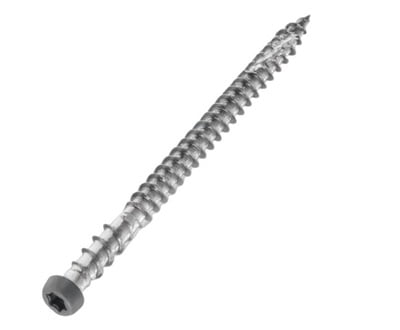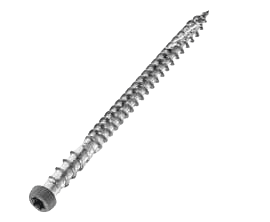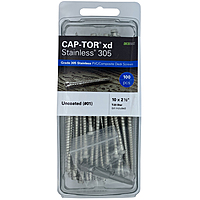 Starborn CAP-TOR #10 Stainless Steel 2-1/2" Screws
Starborn CAP-TOR xd 2-1/2" Screws (305 Stainless Steel) are specifically designed to fasten PVC and composite capstock decking with a clean, smooth and uniform finish. They also work equally well in traditional composites. Cap-Tor xd screws are available in 20 different colors to match all of the leading PVC and composite deck boards on the market.
Cap-Tor xd screws feature extra deep star drive recesses, undercut heads, reverse threads, tri-lobular shanks and type 17 auger tips.
Find the right screw color to match all of the most popular decking products. Colors are labeled according to Starborn's color names along with the two-digit number assigned to each color.
Use Starborn's online STARBORN Deck Matcher online Color Tool to find the right color Headcote for your decking material.
Coverage
100 Screw pack covers - 66 ln.f or 30 sq.f. ( 16" OC joists) | 20

ln.f or 22 sq.f. ( 12" OC joists)

350

Screw pack covers - 230 ln.f or 100 sq.f. ( 16" OC joists) |

175 ln.f or 80 sq.f. ( 12" OC joists)

1050

Screw pack covers - 690 ln.f or 300 sq.f. ( 16" OC joists)

| 525 ln.f or 240 sq.f. ( 12" OC joists)

1750 Screw pack covers - 1,150 ln.f or 500 sq.f. ( 16" OC joists) |

875 lin.f or 400 sq.f. ( 12" OC joists)

Cap-Tor xd screws features

extra deep star drive recesses
undercut heads
reverse threads (prevents mushrooming of Composite or PVC decking while face screwing)
tri-lobular shanks
type 17 auger tips
Grade 305 Stainless Steel